About
Since 1972, Salem Door has been providing quality garage door services for residential and commercial clients throughout the Tri-State area. We pride ourselves in offering products from industry-leading manufacturers, utilizing state-of-the-art equipment, and adhering to the latest safety standards. Whether you need installation, service, or repair, you can count on our experienced team for efficient, reliable service and competitive pricing. We look forward to helping you with your residential or commercial garage door needs.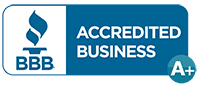 Better Business Bureau (BBB)
BBB maintains Business Reviews on more than 4.5 million businesses and rates them based on complaint histories, responsiveness to customers, licensing, legal and government action, and other factors. Only Accredited Businesses that meet the BBB Code of Business Practices are permitted to display the BBB logo in their marketing and place of business.